The Andaman and Nicobar islands are rapidly becoming one of the most favored destinations for Indian tourists. Until a few years back, only those who were keen on exploring places beyond the obvious ventured as far as the far-flung islands of Andaman and Nicobar. Blame it on the more number of flights and a significant expansion in the infrastructure on the islands, Andaman tourism has seen a boom in the number of tourists heading to what was once known as Kala Pani once, is constantly increasing.
1-week Itinerary for Andaman and Nicobar Island Tour
It seems as if every other person who travels, is planning his/her Andaman trip or at-least, talking about. While a lot of these tourists pick from the many Andaman Tour packages out there, a lot of us like planning our custom trips ourselves. So, let's try to come up with a week-long itinerary for Andaman.
As there are many direct flights to Port Blair every day, this itinerary assumes that you land at Port Blair early in the morning.
Day 1: Sightseeing in Port Blair
Day 2: Ross Island
Day 3: Port Blair to Havelock Island
Day 4: Havelock Island
Day 5: Havelock To Neil Island
Day 6: Neil Island to Port Blair
Day 7: Port Blair and Fly Home
How to Plan a Trip to Andaman and Nicobar Islands
Day 1: Sightseeing in Port Blair
After quickly freshening out at your hotel, start with the must-see places in Port Blair. Visit the Anthropological Museum of Port Blair which offers the highlights of primordial eras of Jarawas, Onges, Sentinelese, Shompens and Nicobarese tribes.
Run by the Indian Navy, the Samudrika Naval Museum is another place one must visit when in Port Blair. It is one of the best places to know about a diverse range of marine life. Then head to Corbyn's Cove for some adventure activities. Finally, before sundown, head to the Cellular Jail.
Day 2: Ross Island
Make a day-trip to the Ross Island. Ross Island is where the quarters and of the British officers were. You can spend time exploring the ruins there. The ferries to Ross and Viper island leaves from the Rajiv Gandhi Sports Complex/ Marina Park Jetty, from 8.30 AM. The ferry tickets cost Rs.90 per person.
Day 3 & 4: Port Blair to Havelock Island
Havelock Island is undoubtedly one of the most beautiful inhabited islands. This tiny and self-reliant island has a lot to offer and I strongly suggest you spend at least a couple of days here. Explore the island at a slow and relaxes pace. Havelock is a great place for scuba diving, it is highly recommended that you try this experience. Keep at least half a day to just walk, eat and relax at the most beautiful beach of Radhanagar.
Please keep in mind that there are quite a few resorts in Havelock but there are not many budget accommodations in Havelock.
Day 5: Havelock To Neil Island
In short, the Neil island is beeeeautiful. Actually, a little more than that. Take an early morning ferry for yet another journey from Havelock to Neil island. Andaman tourism has recently started promoting Neil island. It is one of those islands which are open to tourists but are also as virgin as any touristy island can get.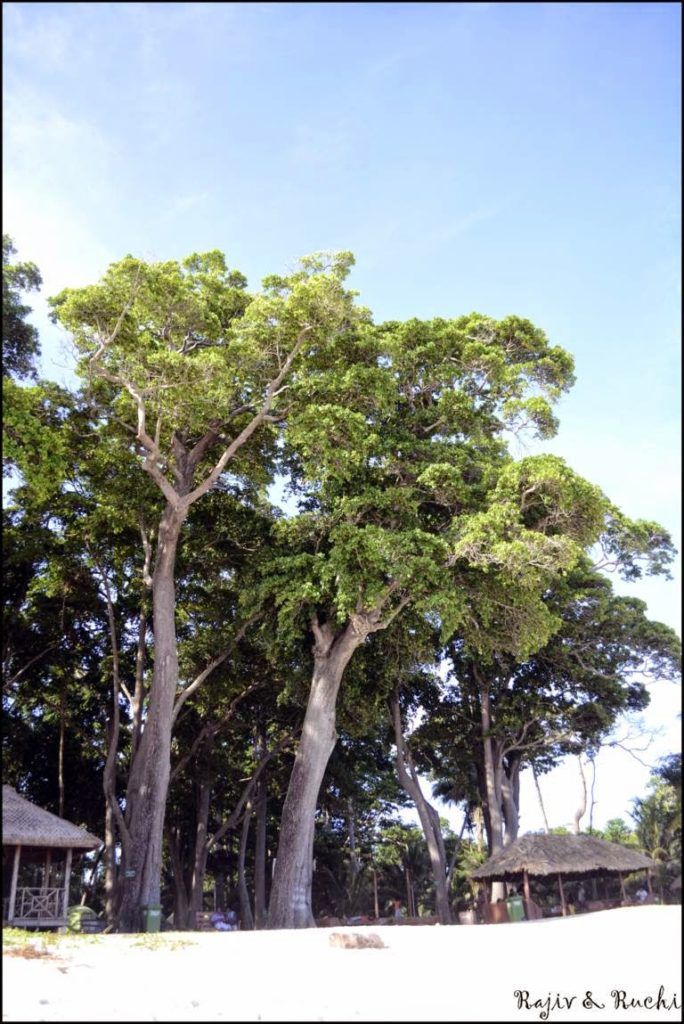 Budget accommodations in the Neil island exist. Unlike the Havelock island, there are not many tourist resorts in Neil Island. When on the ferry, don't miss heading to the deck. The view from there is extremely beautiful and very soothing, something you would never want to miss while on the sea.
Day 6: Neil Island to Port Blair
Catch the ferry back to Port Blair from Neil Island. You will reach before noon so you have plenty of time to explore and there are a lot of tourist places to see in Port Blair. Pay a visit to the Forest Museum and the Chatham Saw Mill. The Chatham Saw Mill is one of the oldest sawmills in Asia. It is built on a tiny island and is connected with Port Blair by a bridge. In the evening, indulge in the fantastic sea-food scene of the Andamans. And before ending the day, don't forget to visit the Jogger's Park to have a wonderful view of the Port Blair airport below.
Day 7: Port Blair and Fly Home
Assuming you have a late afternoon or evening flight, keep your last day in the Andamans to visit the Wandoor Beach. It is less than an hour's drive from Port Blair and if you ask me, a must-visit place in Port Blair, Andamans. The deep scars of the Tsunami that took away so many lives, can be seen easily in and around the Wandoor beach. The drive from Port Blair too is a beautiful one. One that is sure to bring a smile on your face if you are someone who enjoys his riding or driving.
Quick Tips For Your Trip To Andaman Islands
Opt for the Govt. ferry over the private ones. The govt. ferries let you spend your time on the deck (weather permitting), letting you enjoy the view as you sail.
For your flight, always opt for right-side seats when landing in Port Blair. The right side seats give you breathtaking views of the hundreds of islands scattered below.
Don't rush when in Andamans. Don't shout/talk loudly, it's very irritating and disturbing to others around you. Instead, listen to the sounds of nature that surround you.
Except for Port Blair, most of the islands (Neil, Havelock, etc.) have none to patchy mobile connectivity. Keep that in mind.
You are going to absolutely LOVE it if you are a fan of seafood. The options you get here are huge. (I will do a post about The Best food in Andamans soon).
When driving or riding in the Andamans outside Port Blair, be very attentive. At many places, the difference between the sea and the road is just a few inches.
**This is one of the many possible itineraries for a duration of one week. The Andaman Islands are too big to be completely explored in one week, or even one month.