Part because of the workload, a ton of other things, and part because of the writer's block, I have not been able to write travel stories here. They have been piling – up but for now, I don't think I am in a mood to write them in a way I would enjoy. So, in the meantime, I thought of this quick travel guide to Majuli with some actionable information about things to know about Majuli before you visit.
Majuli Ferry Guide 2020
Majuli being an island is connected to the mainland only by the water route. There are ferries that make regular trips between Nimati ghat on Jorhat (Assam) side and Kamalabari Ghat on the Majuli side along with some other ghats on the Majuli side. Ferries to Majuli's Kamalabari ghat from Nimati ghat are the most frequent.
Jorhat To Nimati Ghat Distance and Time Taken
Nimati ghat is a 20-minute drive from the town of Jorhat and shared vehicles are easily available. You can catch a share-auto or tempo from near the ASTC station. The drive is beautiful through the countryside Assam and crisscrosses multiple small villages on the way.
How to Reach Majuli Island – Nimati Ghat To Majuli Ferry Timing
From morning till evening, there are regular ferries going to Majuli from Nimatighat and the other way round. The journey takes approximately 1.5 hours one way. The usual timetable of the ferry to Majuli from Nimati Ghat is given below, however, during the monsoon season, the schedule usually changes. In fact, the ferry service is even stopped if the weather is not conducive. During this period, Majuli virtually remains disconnected from the rest of the country.
| | |
| --- | --- |
| Departure from Nimati Ghat | Arrival at Kamalabari Ghat |
| 8.30 AM | 9.45 AM |
| 10.30 AM | 11.15 AM |
| 2 PM | 3.15 PM |
| 3 PM | 4.15 PM |
| 4 PM | 5.15 PM |
Majuli Ticket Booking Online
Recently, the Majuli Ferry Ticket booking has gone online. Whether you are going from Jorhat To Nimati ghat or coming back from Majuli To Jorhat by ferry, the tickets can now be booked online. The official website looks a little dodgy, just like a ton of other govt. websites almost everywhere, however, it gets the job done.
The website to book Majuli ferry tickets is here. It is suggested that you book your tickets in advance if you are traveling with your vehicle that needs to be loaded on the ferry too, as there's limited space for vehicles. And also because not all ferries are big enough to carry vehicles.
Jorhat To Majuli Ferry Fare
The fare per person is Rs. 15/- and if you are carrying your bicycle, motorcycle, or 4-wheeler, you will have to pay additional charges accordingly. None of them is exorbitantly high though. For example, if you are going to go in your car, the charges for your vehicle will be around Rs.800/- for the journey.
First and Last Ferry From Majuli To Nimati Ghat (Jorhat)
The first ferry from Majuli to Jorhat leaves at 7.30 in the morning while the last ferry from Majuli for Jorhat leaves at 3.15 PM.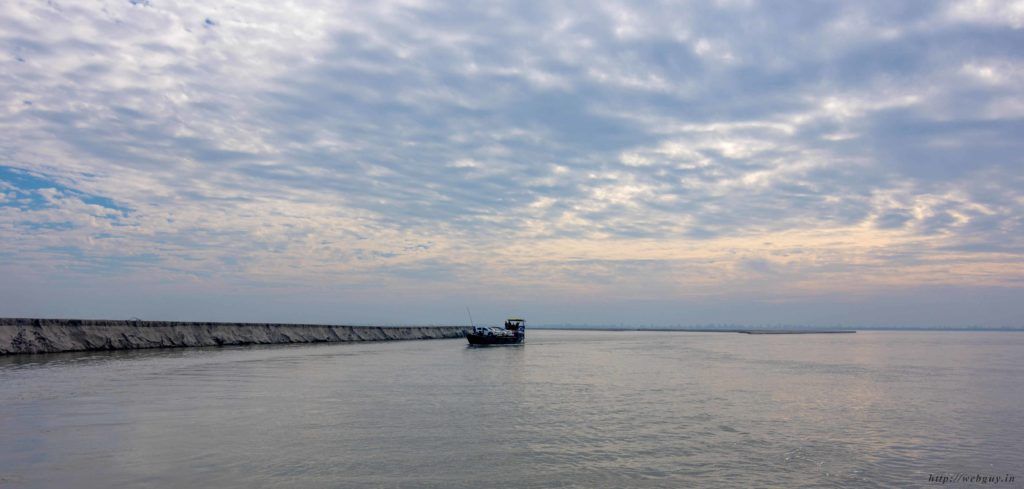 Are The Ferries To Majuli Luxurious?
The ferry service that connects Majuli island with the mainland is a govt. run service so quite understandably, they are anything but luxurious. Basically, they are big wooden boats fitted with engines. The seating area is inside the boat where people sit on long benches, side-by-side, and facing each other. While the arrangement may be basic, the entertainment aboard these vessels is something you will get nowhere else. Be it the locals singing folk songs, be it the sweet air of the mighty Bramhaputra kissing your face or be it the glorious sunset that you witness if you are sitting/standing on the upper deck.
Majuli Hotels – Where to stay in Majuli Island?
There are no big or luxurious places to stay in Majuli island. One of the oldest accommodations in Majuli island, La Maison de Ananda provides decent stay options on the island. The cost for a double – bedroom at La Mansion de Ananda is around Rs. 800/-.
Apart from that, there are a few nice bamboo cottages in Majuli where you can stay. There are generally basic but the experience to stay in the traditional bamboo-huts in Majuli is really pleasing and satisfying. To add to that is the fact that the kitchens attached to these bamboo cottages dish out the delicious local cuisine.
How To Reach Jorhat (or Leave)
By Air: The Jorhat Airport at Rowriah and Lilabari Airport in North Lakhimpur are the two nearest airports to get in and out of Jorhat.
By Rail: Jorhat is well-connected by the Indian Railways. Jorhat Town, Mariani, and North Lakhimpur are nearby stations that connect the town to major Indian cities.
By Road: Assam State Transport Corporation (ASTC) station Jorhat is the town's main bus station from where buses to various cities in the region ply.
From Nimati Ghat To Other Areas of Majuli
Nimatighat to Phulanighat – 3.30 PM
Nimatighat to Dakhinpat Ghat – 3.30 PM
Nimatighat to Salmora Ghat – 3.30 PM
Nimatighat to Sumoimari Ghat – 3.00 PM
Nimatighat to Aphalamukh Ghat at 11.15 AM
Have you been to the Majuli islands? Do you plan to visit there?