(continuing from the 1st part of my Sandakphu trek blog)
…By the time we reached Tumling, we had realized that from Tumling to Sandapkhu, the rhododendron blooms were pretty much the same as what we had come across so far. In fact less. Also, we were really liking the location, views, and slow life at Tumling – a small Nepali village on the Sandakphu trek route. And being disconnected with the outside world was like an icing on the cake to us. We decided to stay put in Tumling for today and not proceed towards Kalipokhri, that was supposed to be our night – halt today, if we had followed the plan!
Walking around Tumling Village and Tonglu Top
For the day, we decided to explore our small village of Tumling and then walk up to the Tonglu top. Our Sandakphu trek guide Sange initially thought we were a little weird for not moving ahead towards Sandaphu on such a bright and beautiful day but soon understood that we were more keen on breathing the fresh air of the mountains than reaching anywhere in particular.
Sandakphu Trek Route
This trek route is one of the most beautiful treks I have done. The only thing I did not like about the Sandakphu Singalila trek route is the fact that you can also do Sandakphu by car which means, on a regular interval, vehicles ply on the same route which people walking also take. You can always ditch the paved road if you are walking and that is exactly what we did – walked on Nepal side of the trail, though the jungles and villages. But there are places where you must come back and join the cemented road. Not something we enjoyed doing.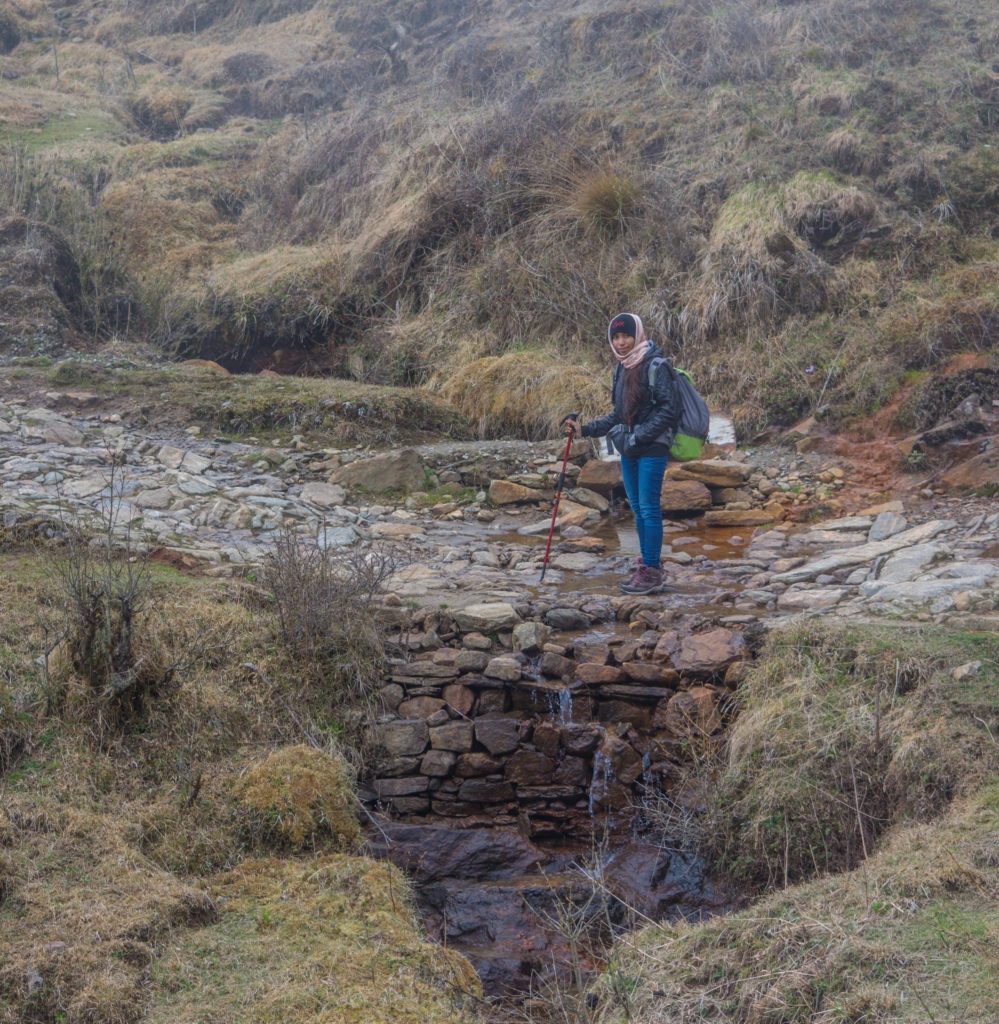 Anyways, so back to the good stuff about the Sandakphu trek trail. The walk to Tonglu top was not a very long one from our homestay in Tumling, so after a heavy breakfast, we had taken it easy on our way to the Tonglu top, with a lot of photo-stops, thanks to the gorgeous weather and clear skies. But, not so surprisingly, by the time we were on at the top, I was hungry! After a quick Maggi session, we slowly started back for Tumling – but not before making many photo-stops along the road again.
By the time we came back to our Tumling homestay, the weather had abruptly tuned bad. It was being said that, heavy rains should be expected for the next 2-3 days. So, all we did that evening was sat by the fireplace, enjoyed great food and chatted with fellow travelers.
The next morning, we started our walk all the way to Maneybhanjang. Thankfully, it was mostly downhill and this time we took more shortcuts that we had taken on our way up. We got good weather around the small village of Lamadhurya where we relaxed a bit and also bought a couple of local rhododendron wine. More than two months down the line, the bottles are yet to be opened!
By late afternoon, we were nearing Maneybhanjang. The plan now was to reach Darjeeling for the night and then from there, the next day to Gangtok. We had no plans to spend time in Darjeeling this time but since reaching Gangtok on the same day, without reserving a vehicle was not possible, we had to stay in Darjeeling. Which means, I might even write a blog post on things to do in Darjeeling in 24 hours, who knows!
And that is how ended our Sandakphu trek.
Have you been to any trek before?