I had been wanting walk the Sandakphu trek route since a while. The aim was not to do it during the best time to visit Sandakphu, that is during one of the dry months when the sky is clear and you get great views of Sandalphu from multiple places on the trekking trail itself. My plan was to do this trek when the mountains are laden with rhododendron blooms. Ruchi also had liked the idea. So, after a gap of around 3 years, she too was ready again to put on her trekking shoes and head to the Himalayas. Her last trek was the Hampta Pass trek back in 2014.
Sandakphu Rhododendron Trek
Being in the mountains is a feeling that is very hard to put to words. We felt the same happy feeling as we started our walk from the tiny village of Maneybhanjang, after a quick lunch of momos. We of-course registered ourselves first, at the guide & porter's office in the village and paid our Sandakphu trek guide fee there. Then, we started our walk towards Chitrey, a small Nepali village with just 4-5 houses and our halt for the first night. The weather was foggy for most parts and all we were hoping for was a clear sky the next morning.
Since there was still some daylight left, after a quick bowl of Maggi prepared by our ever-so-funny host Phunstok, we headed out for a walk to the village monastery. The monastery is a little downhill from our homestay so we had to retrace our steps for a hundred meters or so. This time, however, the walk was much relaxed and without our heavy backpacks.
Chitrey To Tumling – A Colorful Trail
The previous night, it rained crazy. It was so heavy that we could not even see the water-tap right outside our room, through the window panes. It was absolutely fantastic weather to sleep, especially after a sumptuous dinner. We were already having our doubts about whether we will be able to start our journey the next morning. The rain was that crazy.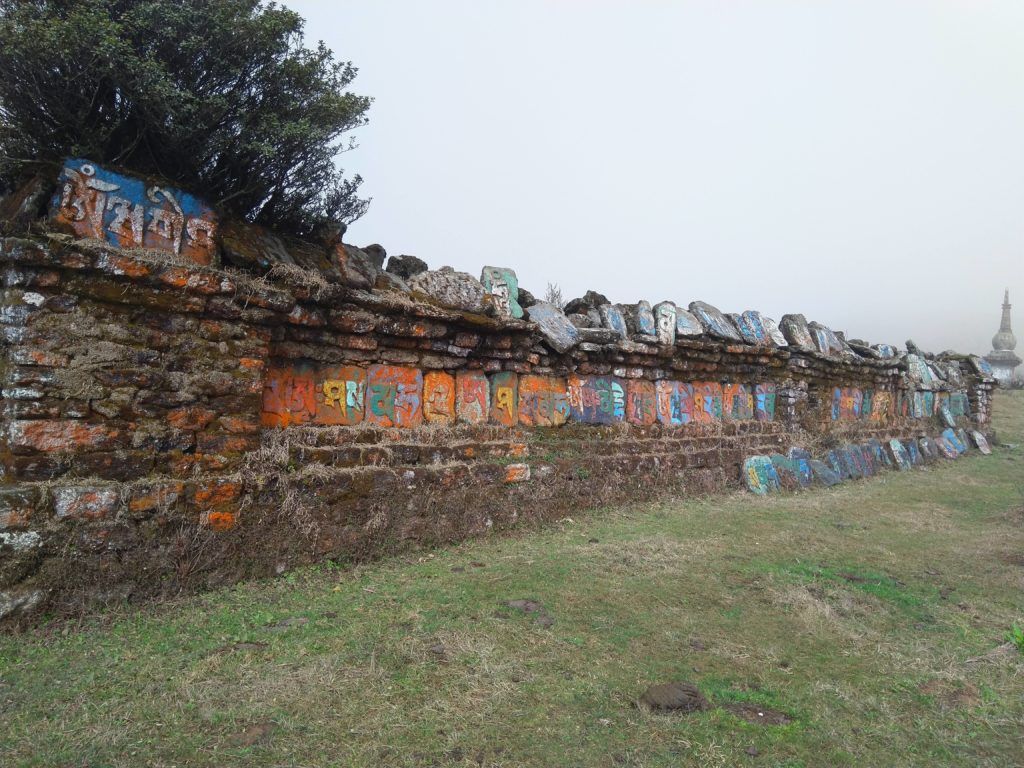 The day, however, was bright and beautiful. We decided to move ahead after a heavy breakfast. Our guide Sange too had come and by 9 AM, we were ready to leave. Unlike yesterday, we did not take the paved road today. Instead, immediately after leaving our homestay at Chitrey, go on the trail on the Nepal side.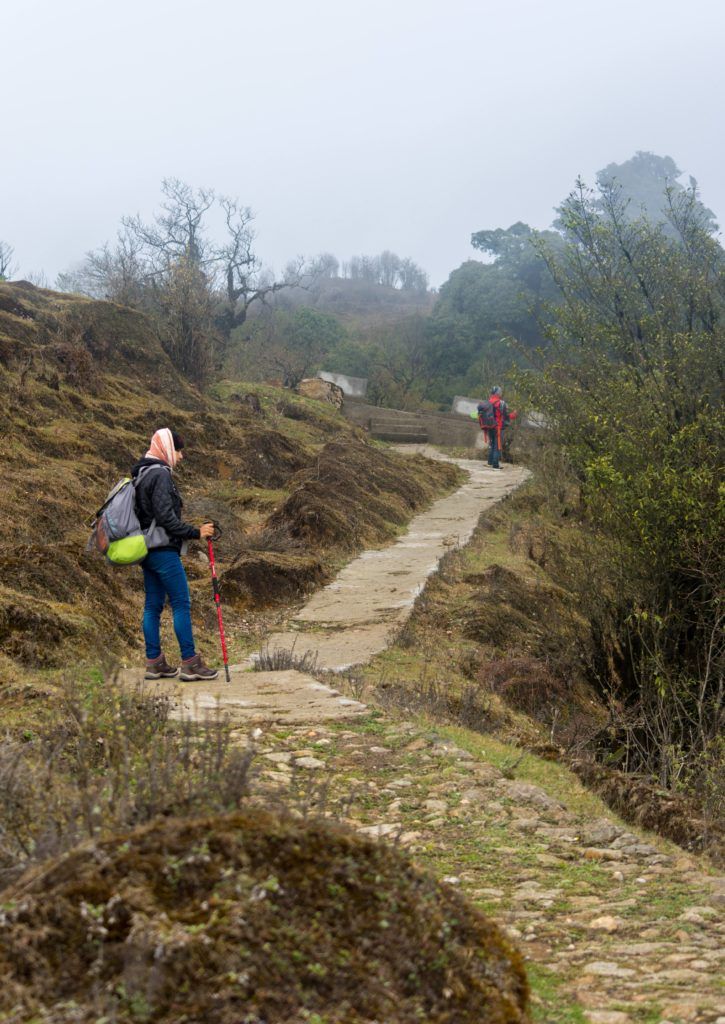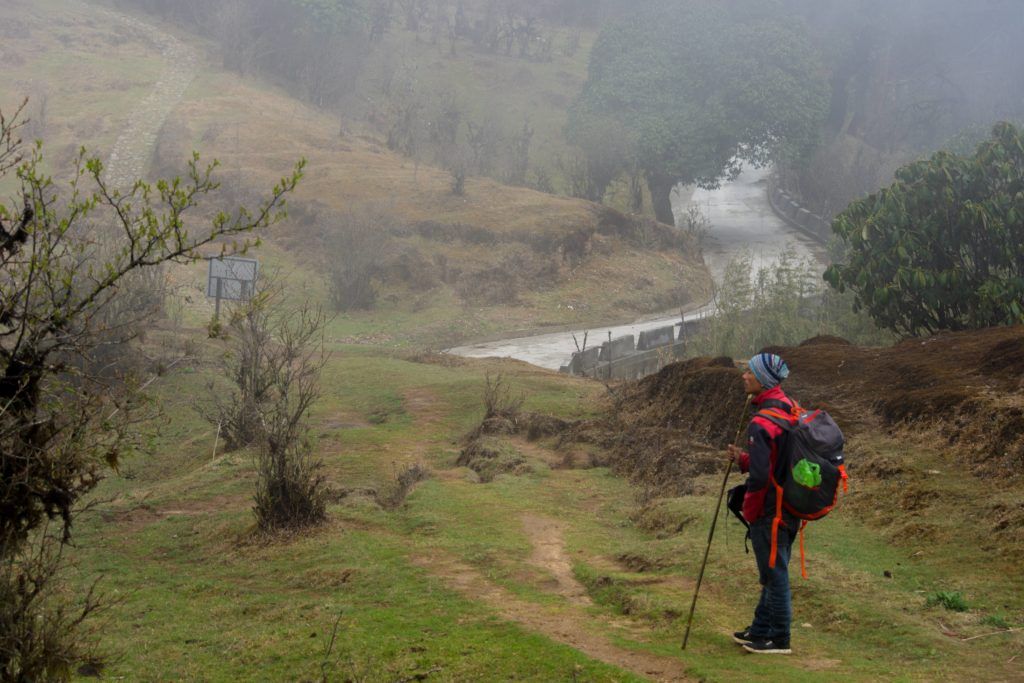 It got windy and foggy, soon after we left Chitrey and then Upper Chitrey behind and reached higher. It became significantly tougher to go ahead with every step. But the views too kept getting better and better. Deep valleys on one side and dark gray meadows on the other – it at times seemed a little too surreal.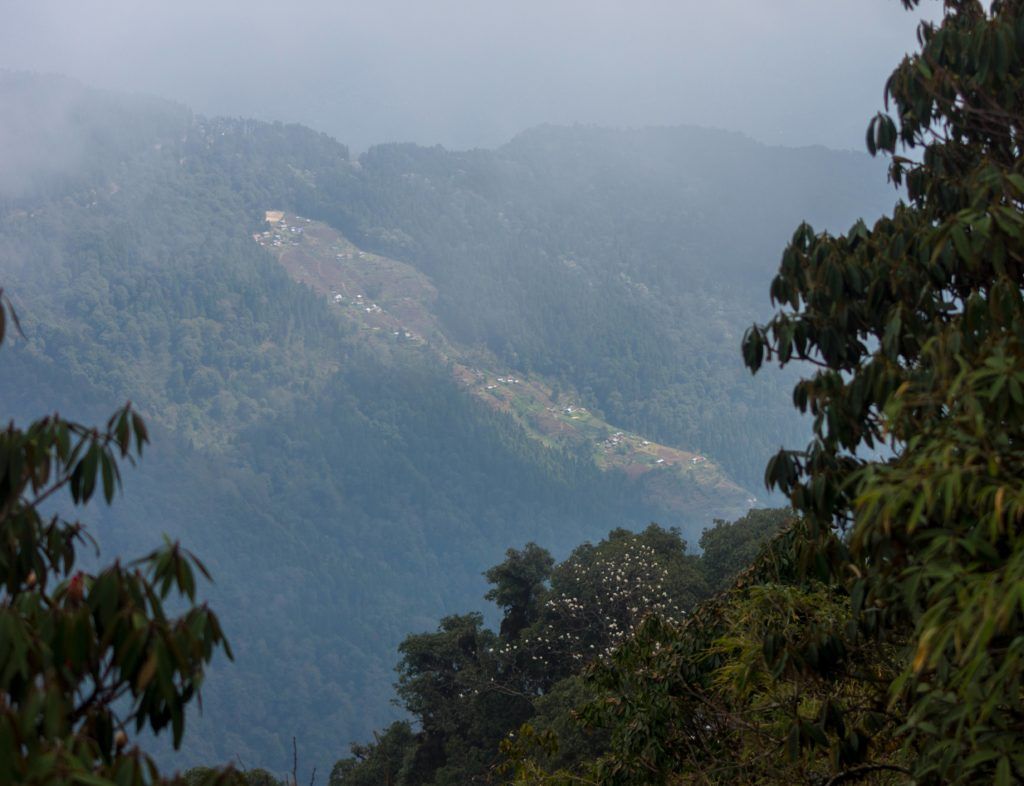 Sandakphu Rhododendron Trek – Best Time to Visit
The whole agenda of our trek was to see the trail in the colors of the rhododendrons and hence we had chosen to do this Sandakphu trek in April over October or the months after that. While for many, the best part of the Sandakphu trek was to be able to see the sleeping Buddha and we too would have loved to experience the same, we decided to leave it for some other time and chose to see the colors of the mountains this time around.
But as it turned out, we were a little too early in the trek. At least by a week, if not more. When we were there, the blooming had just started. To be honest, we were a little disappointed because of this but since there was nothing much we could have done about it, we decided to look at the brighter side. There was hardly anybody else on the trail. So we were able to actually enjoy being one with nature.
…to be continued here!