One of the must-do things in Imphal is a visit to the Mother's market, also known as the Ima Keithel. Ima keithel is a 500-year old all women's market in Imphal, Manipur. Everything in this market is done by women. The men are welcome here only as customers. On the second day of my trip to Imphal some time back, I decided to pay a visit to this historic market in the heart of the capital, Imphal. As an added bonus, I had Yai with me to show me around.
Ima Keithel – Imphal, Manipur
The current Ima Keithel compound is big and here, you will find almost everything. From groceries to fresh produce to pottery to clothes, you name it. It is also one of the liveliest markets I have been to, in this part of the world. The place is buzzing with energy when it is operational. Whichever direction you turn, you see bright colors and happy faces.
Since it is a very popular place with tourists, the lady vendors of the women's market are used to outsiders who visit the market not to buy anything but to see and experience the place. However, buying something local is always a wonderful thing. This also ensures more happy faces for your camera.
Lady Vendors of Ima Keithel
This market too, like all other markets, is segregated in different sections. One area is for local produce, another for local delicacies like dry-fish and fruits and so on. As we walked around, some of the ladies tried pulling my leg seeing me carry two bulky cameras. They laughed and cracked jokes and asked me to take their photos. And then, I was not allowed to just say thank-you and leave. They insisted on seeing all the photos that I clicked of them.
Why? Read on…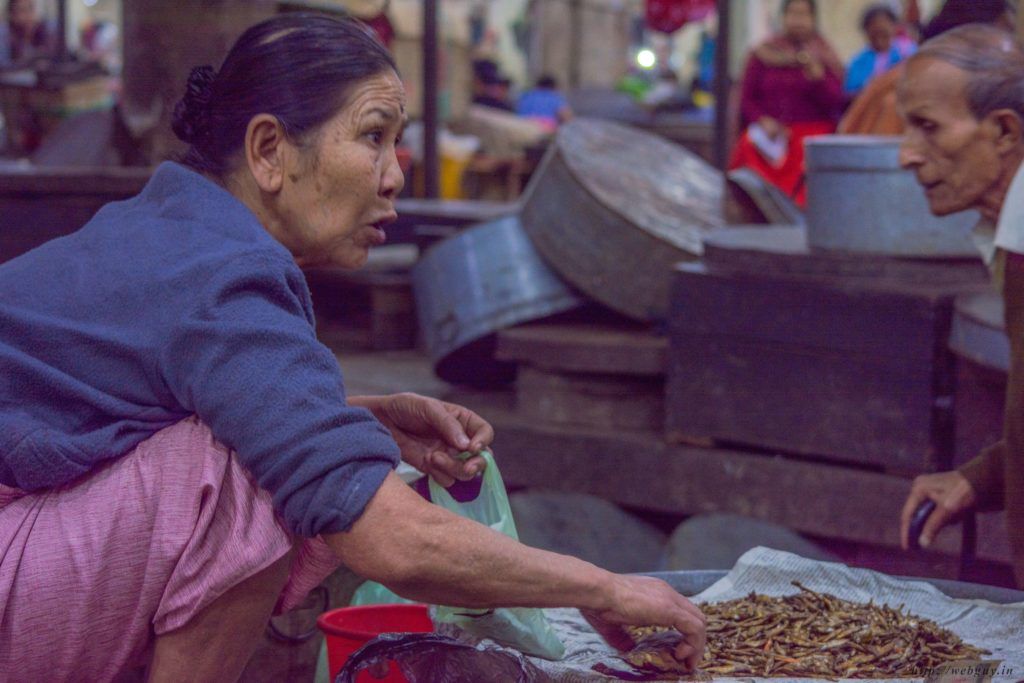 Ok so, they wanted to check every photo I took of them just to be sure that they were looking good in it. If they felt otherwise, they broke out into a burst of heartful laughter and then ask me to take their photo again. And they won't let me go until they were happy with their pictures 🙂 .
Fun Fact about the Ima Market
The market starts early in the morning and buzzes with activity until closing time. From a commercial point of view, the market holds items that are worth a lot of money. But when it is time to call it a day, the lady vendors, the mothers of the mother's market, do not take back any belongings home. They firmly believe that their (open) shops are safe under the watchful eyes of the deity of the market. And so far, that has been the case.
Shopping at the Ima Market
I am not really a shopping kind of guy and thankfully, my wife is not either. But I am a big fan of local art & craft so I make sure to buy whatever I can, whenever I am at a local market or at some remote village that produces something nice. It is also one way of showing appreciation and supporting the local economy.
So, from here, a picked-up a really beautiful phanek for the missus 🙂 .
After spending a good amount of time, we slowly walked out of this historic market. It was already dark by the time we came out but we were not calling it a day just yet 😉 .
Have you been to local markets? How do you like them?