"Hampi is overwhelming!" I have said it in the past and I say it again, Hampi is a place like no other. Be it the grandeur, the history of one of the biggest kingdom or its immensely rich architecture. Or be it the huge boulders, the colorful Hampi market, or the mythological stories of Khishkinda Nagri, Hampi is sure to leave you spellbound and wanting for more. So, no surprises there for it being one of my most favorite places of all the places I have ever been to. Hampi is one place I want to go back to soon, almost daily. But until that happens, let me re-live the enchanting place by attempting to write this Hampi travel guide and tell you all about the things to do in Hampi.
Where is Hampi?
Located around 350 kilometers North of Bangalore and slightly less than 350 kilometers East of Goa and Gokarna, this once grand capital city the mighty Vijayanagara kingdom of the historically significant Tungabhadra river. There's a lot that can be written about every aspect of Hampi and I would love to too but that would make this Hampi travel guide, unnecessarily long and redundant. So,  I will just stick to sharing information about things you must know when traveling to Hampi.
How To Reach Hampi from Bangalore (or anywhere else)?
The nearest rail-head to Hampi is Hospet, a small but bustling town. There are direct trains connecting Hospet with major cities of the region like Bangalore, Goa, etc. From Hospet, Hampi is another 12 kilometers. You can either hire an auto (should cost you between Rs.200-300) or walk a little ahead after coming out of the Hospet Railway Station and hop on to one of the KSRTC buses that shuttle between Hampi and Hospet. The bus fare between Hampi and Hospet is a mere Rs. 10/-.  The bus drops you at what is known as the Hampi market, right in front of the mighty Virupaksha temple.
Be Happy, you are in Hampi now!
Places to stay in Hampi: Hotels, guest houses, homestays
Hampi essentially is a village. There are no hotels in and around Hampi. The nearest place to stay, if you wish to put yourself up in a hotel, is the town of Hospet. However, if you have come to explore Hampi, not staying in Hampi would not make any sense.
But then where do I stay in Hampi, you ask!
You stay in either the numerous homestays or guest-houses that dot the bazaar area and all the way up to the other side of the river into the hippie island. Choosing a place to stay in Hampi would primarily depend on one factor, whether your purpose of the visit is to get high or you wish to explore the historic town of Hampi. If it's the later, I would strongly suggest you stay on this side of the river.
Cost of accommodation in Hampi
Since the guest-houses in Hampi are pretty basic, the prices normally hover between Rs.400-600/per night for a double-bedded set-up. Things, however, totally change if it's a long weekend when the prices shoot 3-4 times higher.
Welcome commercialization!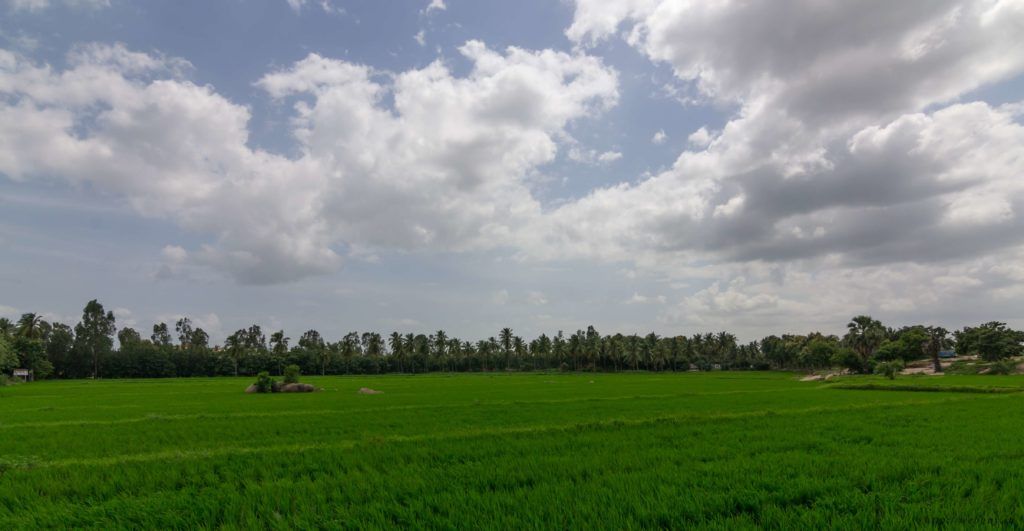 If you plan to visit during a holiday season or a long weekend, book your accommodation well in advance, Hampi has very limited infrastructure set-up and during peak season, it's certain that you will not get a place to stay in Hampi just by showing – up at the last moment.
Save yourself from coming all the way to Hospet and book your stay in advance.
Best Way To Travel In Hampi
While Hampi is not really big, it is not really small either. And while I would have loved to suggest that walking is the best way to explore Hampi, it is not. Hiring a two-wheeler, either a moped or a bicycle is a better idea. At 200-250 per day, plus petrol, they are cheaper than the autos and give you the freedom to explore Hampi the way you like. Just keep in mind that there are areas where you can not take your two-wheeler. Also, you cannot take your moped on the coracle/steamer to the other side of the river. So, plan well and hire a vehicle accordingly.
Must-Do Things In Hampi
While it is understood that you will visit all the must-see monuments and architectures like the Virupaksha temple, the Vijaya Vitala temple, the Kadalekalu Ganesh temple, to name a few, there are few things I would suggest you must do when in Hampi.
The first and foremost, without a second thought is, watching the sunset from the Hemakunta Hills. No matter how many gorgeous sunsets you have witnessed in your life, you just cannot miss watching the sunset from here. The feeling is beyond words. So, I would rather share an image (below) to prove my point.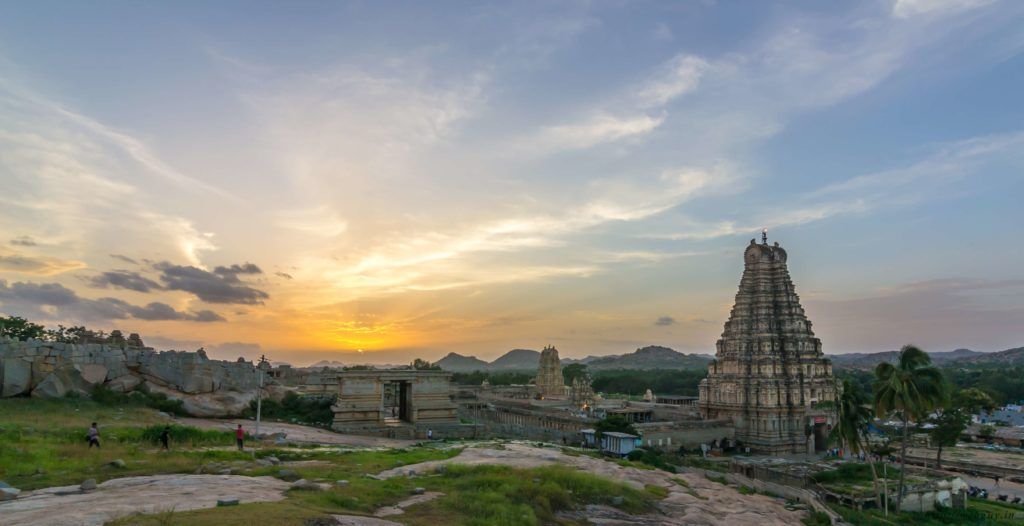 The other two things I would definitely suggest is to walk up to the Matanga Hills. The trail, the walk, and the views, everything is so well worth all the walking in the sweltering heat of Hampi (Hampi is almost always hot and humid). Once at the top and looking down at the grand city spread on both sides of the hill, you just cannot help but be awed by its vastness and grandeur.
And last but not the least, go bouldering. Bouldering in Hampi is an experience in itself. It gives you a unique perspective from up there. It's also very humbling to realize how insignificant we humans are in front of the vastness of our surroundings. My experience of bouldering in Hampi was fantastic, you can read the same here.
Few final pointers
Photography enthusiasts, please keep in mind that Hampi is a UNESCO world heritage site and tripods, drones, and flash-lights are banned here. If you found violating the rules, your camera might even be confiscated.
Hampi is always hot and humid, almost always. So, whenever you head out of your guesthouse, don't forget to carry your water-bottle.
**This guide contains information about things I found have been somehow ignored/missed in many other Hampi travel guides. The commonly found things and listicles have been intentionally left out in this guide so that the focus remains on aspects or things that have been talked about less. If you still feel I have missed something or I should add information regarding some aspect, please let me know via a comment below and I will try my best to do the same.**
Have fun in Hampi!