It had been a while since we last went out on a trip. Work had kept both of us busy and we were really looking forward to changing that. I had been thinking to visit the Manas National Park since a while now but somehow it had not materialized, until now. A few quick phone calls to my contacts in the Jungle safari booking office of Manas National park and we had our plan ready for a weekend in the wild. We wanted to take this trip very slow with no plans except for going for an elephant safari.
Guwahati to Manas National Park By Road
Now Guwahati to Manas by road is not really a long distance but if one wishes to catch the elephant safari (early mornings are always better), it is suggested to reach there the night before. There are not many hotels in Manas National Park and resorts in Manas National Park too are few. There are quite a few homestays around Manas National park and so are a handful of government resorts/guesthouses where one can stay overnight. In our case, however, it was quite late to start at the time when we finally decided to go to Manas. So, we decided to start early in the morning.
Driving to Manas National Park
The road to Manas for the most part of it is great. However, things change once you leave the NH-27 and turn towards the country roads. But, we were not complaining. The views on these roads, crisscrossing numerous small villages, were wonderful.
As we neared Manas, we started to see baby peacocks in and around many village homes. At first, we mistook them to be local chickens and it was only after coming across a few of them, we realized how wrong we were.
Elephant Safari in Manas National Park
I have been on many jungle safaris before, be it the jungle safari in Bandipur during my Bangalore days, be it the tiger sighting in Kaziranga or jungle safari in Kaziranga with my guests, but I have not been on many elephant safaris. I was not really keen on the same either, I had never been. But I knew the missus would definitely like it and like she did 🙂 .
I have always enjoyed being in the jungle. The sights & sounds of the jungle are experiences I like than 'sightings'. But that said, it's always great to come face to face with beasts of the wild 😉 . During the more than an hour long elephant safari, we came across quite a few one-horned rhinos (that's obvious, you must be thinking — I know).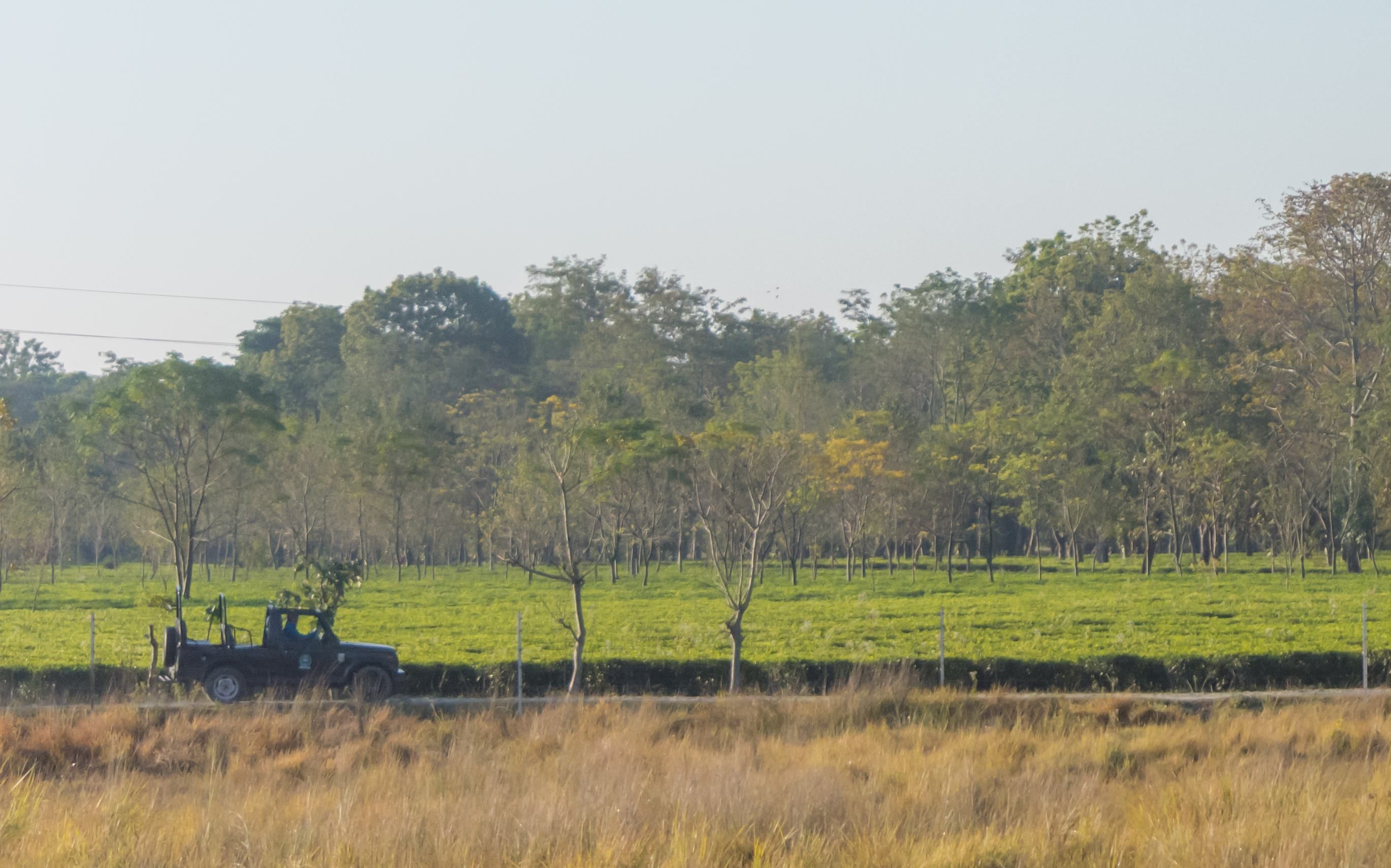 Wildlife Sighting in Manas National Park
After exploring part of this beautiful forest and followed by a quick but nice breakfast, we planned to head inside the jungle again. It was still around a couple of hours to noon and so we thought why not drive into the jungle and see how far we can go. We got the required permit for the car and headed in the jungle again. There was no traffic save for the occasional jeeps ferrying tourists.
Driving to Royal Manas National Park from Manas National Park
This was our first experience of self-driving inside a forest and on the safari trails and it was a wonderful experience, to say the least. The trail also serves as a road that goes all the way to the Royal Manas National Park in Bhutan and connects the Bhutanese border-town of Panbang. While we were not allowed to take the trails that bifurcated from the main trail we were on leading to even deeper parts of the jungle, we were more than happy to be driving on the main trail, all by ourselves.
When is the best time to visit Manas National Park
Just like all other national parks in India, the Manas National Park too, closes for the season with the onset of the monsoons. The best time to visit Manas Nation Park is from November to April end or May (depending on how early the monsoons arrive). The Manas National Park gets flooded during the monsoon which results in the closure of the operations of Jeep Safari in Manas National. The Elephant safaris in Manas National Park also remain closed during the monsoons.
The air was as fresh as it could be and the tall grass on both sides of us swayed joyfully as if saying a happy good morning to us. Just a few minutes on the trail and we had our first encounter with a big group of elephants. They were crossing over to the other side of the road when a couple of the baby elephants decided to play by throwing dust on each other. We stopped at a safe distance from them and enjoyed the show for quite some time before we resumed our journey again.
Manas National Park to Panbang, Bhutan
We went all the way up to the RMNPB, paid an entry fee for us and the vehicle there and headed up to Panbang. The fee is applicable only if you wish to head to the border village of Panbang. And even then, you are only allowed to drive up to the hanging bridge. In retrospect, I feel I could have done without crossing the check – gate and heading to Panbang as there's nothing much to see unless you go into the village, which is off limits. If you want to read more about Panbang, consider going through this post written by a friend and fellow blogger from Bhutan, Sherab Tenzin.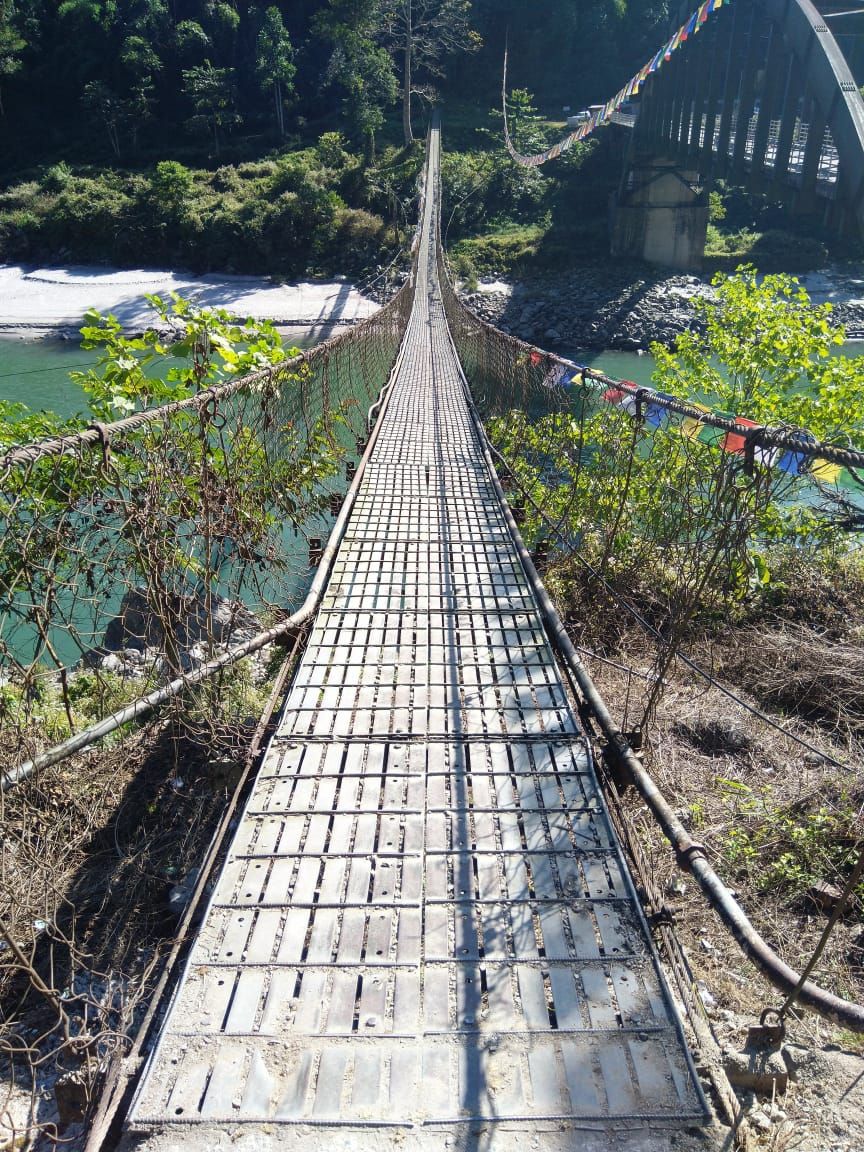 The Beautiful River – Manas
We turned back without wasting much time in Manas as there was hardly anything to see or do. The plan now was to head down to the river bank of the Manas river. The sky was clear and the water of the Manas river was gorgeously blue. Even better was the fact that not many people were around. On our way, we had picked up few bottles of our favorite Bhutanese wine but regretted not picking up a couple of beers too. This place was just perfect to sit and do nothing, of course with a beer in your hands.
Planning a trip to Manas National Park – Safari Charges
As compared to the Kaziranga National Park, the Manas National Park is much less crowded, has a very wonderful reason (google it) to be listed as a UNESCO world heritage site and also gives people from the SAARC countries, a chance to cross-over to another country even if for a bit. Getting a confirmed elephant or jeep safari is also much easier here than Kaziranga. In short, if you are not particular about visiting the Kaziranga National Park, Manas is, in fact, a great alternative. The safari charges at Manas are given below.
How to reach Manas – Manas National Park
You can reach the Manas National Park by air, rail or road. Manas is well-connected to the country primarily via Guwahati. If you are coming from Bhutan to Manas National Park, your nearest exit would be Gelephu. Guwahati is also the nearest air-connected city.
By Road: The distance between Guwahati and Manas National Park is around 135 kilometers. The roads are great for most parts, as I have already mentioned above. So, it will not take you more than 3.5 hours to reach Manas from Guwahati. Until Barpeta, it's one single road from Guwahati.
By Air: The nearest airport is at Guwahati which is well connected to the rest of the country and to few other international destinations as well.
By Rail: The nearest railway station to reach the Manas National Park is Barpeta railway station. Barpeta is well-connected by Guwahati by rail.
AND, if you want to do a professionally planned and managed trip to the Manas National Park, please feel free to get in touch with my company North East Explorers – An Eco Travel Company focusing on promoting sustainable travel in the North East.