After years of demanding it, the state of Manipur finally has come under the ILP regime. Much to the joy of the people of Manipur. But what would it mean when it comes to traveling to Manipur for any Indian who is not from the state? To be frank, it has already been more than a couple of months now but a lot of confusion still remains as most of the things about applying for a Manipur Inner Liner Permit (ILP) are not clear.
To begin with, there is no way to get Manipur ILP online and there is also no designated office from where on can obtain an ILP before visiting Manipur. As per the information shared by the government, seven ILP counters have been set-up to issue the permits.
During my recent trip to Manipur however, I did not come across any such counter at Mao, the border between Nagaland and Manipur.
Where To Get Inner Line Permit (ILP) for Manipur?
As per the official information, one can get Manipur ILP from one of the seven counters that have been set-up at :
Jiribam
Mao
Moreh
Jessami
Behiang
Singzawl
Imphal airport.
How To Get Inner Line Permit (ILP) for Manipur?
To apply for Manipur Inner Line Permit (ILP), the following documentation and information are required.
A duly filled ILP application form
A passport-sized photo
A govt-issued photo id proof
Details of your hotel/homestay in Manipur
Details about your duration of stay in Manipur
What is the Manipur Inner Line Permit (ILP) Fees?
The Manipur ILP Fee is Rs. 100/- to be paid in cash.
I had taken a flight to Imphal so I had to apply for my ILP at the Imphal Airport ILP counter, The process was very smooth and the entire process took no more than 10 minutes.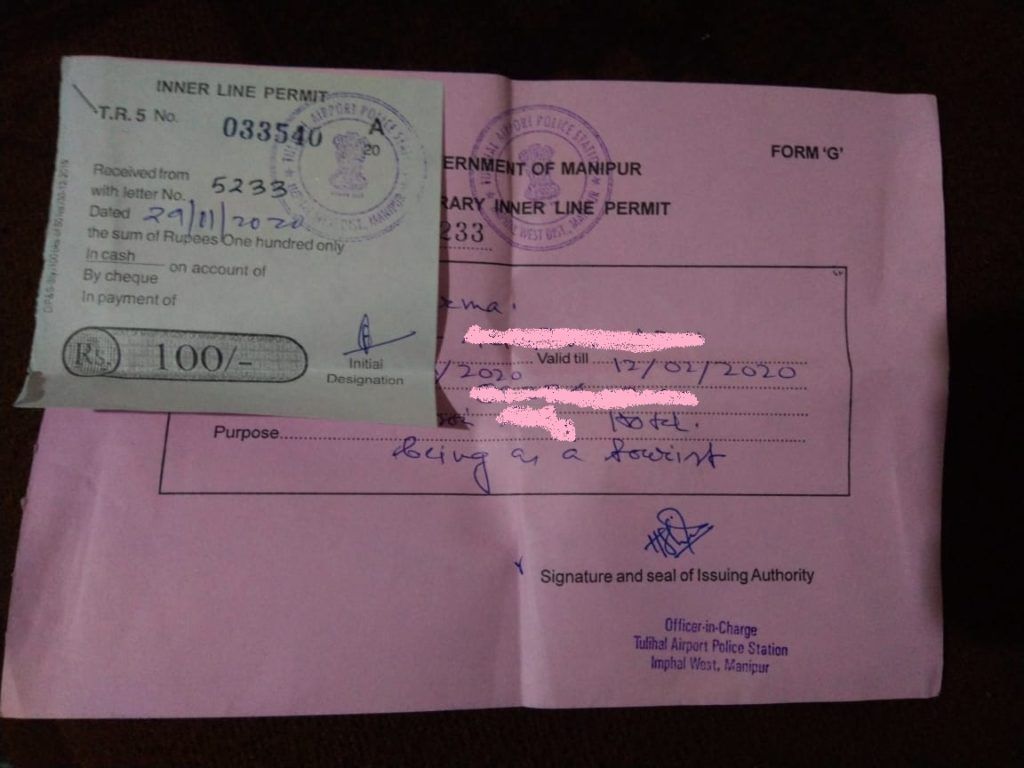 Do Foreigners need Manipur Inner Line Permit (ILP)?
Inner Line Permit is only for Indians. Foreigners do not need to apply/obtain an inner line permit for Manipur. They, however, must register themselves with the police department. The process is very straight-forward. The foreigner registration is there at the Imphal airport's arrival area. The cops there will help you register yourself.
How is the ILP checking in Imphal?
Well frankly, once I had registered and obtained my ILP at the airport, I had almost forgotten about it. Over the course of my Imphal – Loktak trip, I was not asked about my ILP even once. Not by any authority nor by any of my hosts. I did not even see any counter at Mao gate [Manipur – Nagaland border gate] where either ILP was being checked or issued. To me it looked like, the enforcement/checking is yet to pick up.
I, however, do not suggest you try your luck by entering Manipur or for that matter, any other northeastern states where, with the required documents.
[Update: March 2020]
As of now, the issuing of all Manipur Inner Line Permit for tourists has been stopped until further notice. This is due to the COVID-2019 outbreak.