Is spotting the one-horned rhinos your main reason to visit the Kaziranga National Park but you don't have the luxury of spending one night in Kaziranga? Or are you finding it tough to book a Kaziranga jungle safari because all of them are sold out? Or are you someone from in and around Assam who wants to see the one-horned rhinos up close but wants to skip the crowded Kaziranga National Park. Then look no further than the not so popular but in no way less, the Pobitora Wildlife Sanctuary. The rhino density in the Pobitora Wildlife Sanctuary is significantly more than that of Kaziranga and sightings too are way better.
Kaziranga Or Pobitora – Which One Is Better?
While Pobitora also is home to other animals like leopards, barking deer, and wild boars, etc., a trip to the sanctuary to spot them is not really a great idea and in all probability, you will be disappointed if that is what you are after. Their number, even for a small area of less than 40 sq. kms., the size of Pobitora wildlife sanctuary, is very low and sightings are very rare. But when it comes to the one-horned rhinos in Pobitora, it's a completely different thing altogether. There are literally everywhere in the designated rhino habitat of the reserved forest which is around 18 sq. kms. Close to a hundred one-horned rhinos live within this designated area.
Rhino and other wildlife sightings at Pobitora Wildlife Sanctuary
The jungle safari at Pobitora is not as long as that of Kaziranga Jungle Safari, and understandably so. While the Jeep safari in Kaziranga is for two hours, the jeep safari at Pobitora is of one hour. The jungle, however, is beautiful in Pobitora.
While Kaziranga is mostly about tall grass, Pobitora is about a lot of different types of trees with a few sections that seem denser those Kaziranga. If you are lucky, you might spot a few super shy animals too, like we saw this lizard (below), apart from some very interesting birds.
Initially, we were not really interested in the birds of Pobitora and were thinking about visiting the Manas National Park instead. But by the time we were done with our Jungle safari, we had no regrets. Pobitora turned out to be a great weekend trip from Guwahati. for spotting birds, deers, lizards, wild boars, etc., and of-course the one-horned rhinos.
Elephant Safari and Jeep Safari In Pobitora Wildlife Sanctuary
Pobitora offers two types of jungle safaris, the Jeep safari, and elephant safari. No advance booking is required for either of the safaris and they can be booked onsite. However, on holidays and weekends, it is always good to reach before the park opens for the day to make sure you have your tickets before they are sold out.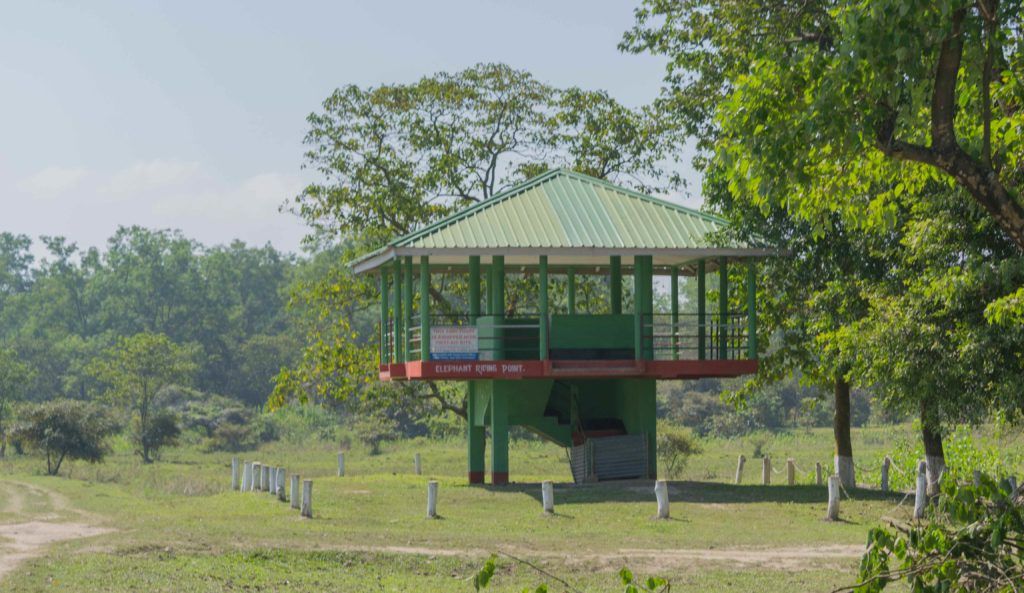 Jungle Safari Charges at Pobitora Wildlife Sanctuary
The safari charges per person for elephant safari and jeep safari, along with other charges, are as follows:
Elephant safari per seat – Rs. 450/- (Indian)
Elephant safari per seat – Rs. 1000/- (Foreigner)
Jeep Safari – Rs. 1300/- (Per Jeep) + Rs. 50/- (Indian)
Jeep Safari – Rs. 1300/- (Per Jeep) + Rs. 500/- (Indian)
Full day visit – Rs. 200/- (Indian)
Full day visit – Rs. 2000/- (Indian)
Camera fee – Rs.50/-
Pobitora Wildlife Sanctuary Timings
Elephant Safari – 06:30 AM, 07:30 AM and 14:30 PM
Jeep Safari – 07:00 AM and 15:00 PM
Pobitora Wildlife Sanctuary Hotels – Where to stay?
While there are a few stay options near the area, the Forest Department's Guest House is the best option. Alternatively, you can do a day-trip from Guwahati which has many stay options for every budget.
How To Reach Pobitora Wildlife Sanctuary
Guwahati, the capital of Assam is the nearest rail-head. Guwahati airport is the nearest airport, which is further connected to the rest of the country. The Pobitora Wildlife Sanctuary is located around a couple of hours' drive from the capital city of Guwahati. The drive is a mix of highway and beautiful country roads through a number of small Assamese villages.
Bonus Tip
Given the fact that Pobitora falls in and small area and the rhino habitat, you can also enjoy great sighting without even going for a jungle safari. The final couple of kilometers before the main gate of the sanctuary run along the rhino habitat zone of the park. If you wish to, you can also park your vehicle on the sides of the road and enjoy watching numerous birds flying in and out and the rhinos grazing.
Do you like visiting the Jungle?