The last time I was here on the Living Root Bridge Trek in the Nongriat village, it was all yellow and dry. This time around, everything is gorgeously green. On that trip, I was determined to go beyond the double-decker living root bridges of Nongriat, up to the oh-so-gorgeous Rainbow waterfall. [And that is what I did.] This time, all I wanted was to enjoy the walk and not bother much about reaching anywhere. The last trek was one hell of an experience, this one? we'll see.
More than a year later, I am here again in Tyrna village, about to start this trek yet again. This time, however, I have the best person to walk with, the wifey.
Living Root Bridge Trek to Nongriat Village
I had been thinking of bringing the wife here for a while so it's wonderful to finally see that happening. She had not been on a trek after our Hampta Pass Trek and she too wanted to get back on the trails. In fact, the whole intention of yesterday's drive was to do the living root bridge trek on this extended weekend of her's. Now for those of you who have not read my posts on our Hampta pass trek might not know but, the wife is a better trekker than myself. And that's something she proved yet again, on this trek.
We had started our walk quite late, almost around noon. The best time to start your trek to the living root bridge is always towards the morning. That is to ensure that you have enough time for things that you wish to do. Be it taking photographs, jumping into the emerald waters of the numerous natural pools that dot the trail or, just laze around. I was, however, pretty cool about the delay as my plan was to walk just up to the double-decker living root bridge of Nongriat.
The wifey had other plans though. She had her eyes set on the pristine blue waters of the Rainbow Falls. So, naturally, she was quicker right from the beginning. It's a completely different thing that it did not happen this time around because of some unavoidable reasons.
It's not just about reaching the Living Root Bridge
While I know and agree that these bridges are unique and special in so many ways, to me, this trek is much more than the double-decker root bridges themselves. The entire trail is beautiful beyond words. With its towering mountains, deep valleys, and lush green vegetation – not to mention the cute little villages en route and the oxygen-rich air, there's not a single dull moment when you will find questioning yourself for being there.
Walking on this trail again, to me, was actually more enthralling than the last time. Mainly because it was my favorite season, the monsoons. I absolutely love the colors of monsoons when everything feels so alive.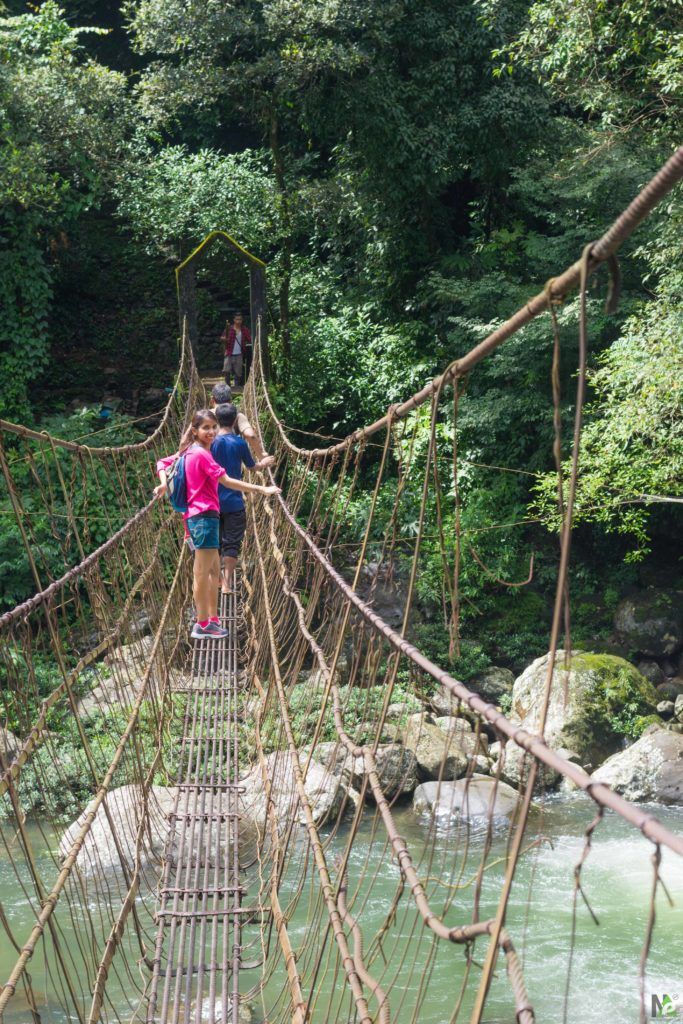 Since the trek, while going to the living root bridges is mostly down-hill, one can easily finish the onward leg in around an hour and a half. We too completed it in around the same time before going trigger-happy at the living root bridges. Much to my delight, there was almost no crowd this time around. Neither on the trail not at the pool next to the root bridges.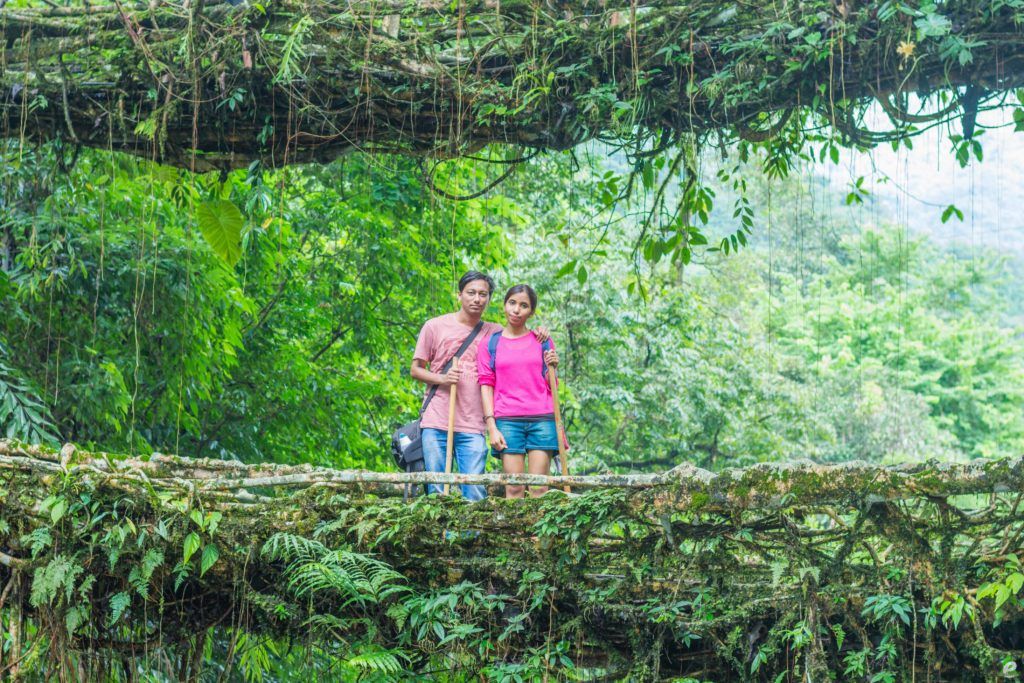 The Beautiful Trail To Nongriat
While the stepped-trail is mostly the same as it was the last time I was there, it was good to see one really rickety hanging-bridge being replaced by a bigger and much more confidence-giving hanging bridge. It came up just a couple of months back, our guide Baahe informs. The views from the bridge, however, remains the same – gorgeous.
For the adventure-seekers, there's still another old hanging bridge that's in use. I hope this one gets some much-required attention soon. After spending a couple of hours there in the village we started our journey back. For those who don't know, we both have issues with our knees. Steep descents make them very painful and once that starts to happen, the ascents too, don't feel like fun anymore.
Thankfully this time around, things remained better and we were back in our car in about 2 hours of starting our walk back. What's more, I was even able to drive back without much problem with a pair of very unhappy knees. Getting out of the car, however, was a totally different experience altogether.
But all in all, a fantastic weekend in Meghalaya well-spent.
Have you been to the Double Decker Living Root Bridge of Meghalaya?